Select Your Injury Type
(check all that apply)
Houston Amusement Injury Attorney | Theme Park Accident Attorney | Dangerous Rides Injury Attorney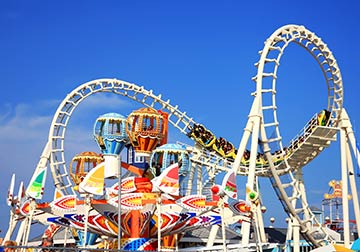 Amusement parks, Theme Parks and Water Parks are fun for the family. They have grown into big business as well. Over 270 million U.S. residents visit amusement or theme parks each year in the United States. A large Houston family may not be able to afford all going to a Pro Football game, but they usually can afford all going in a car to a theme park. The roller coasters, ferris-wheels, Merry-Go-Rounds, Yo-Yos, Zippers, etc. serve as wonderful memories for us all as we were growing up.
To Develop Faster and More Adrenaline Filled Rides, Has Safety Taken a Back Seat?
Theme park owners are consistently working to out-do their competitors to increase consumer popularity and revenue. New roller coasters and other amusement park "thrill" rides are cropping up all the time, advertised as being the world's fastest, highest and scariest. Unfortunately, these rides are giving riders a lot more than they pay for, including broken or bloody noses, broken ribs and limbs, whiplash, brain hemorrhages, paralysis and even death. The increase in thrill ride accidents is alarming as hundreds of people suffer minor to serious injuries each year.
Houston Amusement Ride Accident Lawyers
The Consumer Product Safety Commission (CPSC) reports that emergency room injuries from amusement park rides rose almost 87 percent in the last five years. Amusement Par injuries have risen to such an extreme, that Congress has considered passing the National Amusement Park Ride Safety Act of 2011.
Houston Theme Park Accident Lawyers
The investigation conducted by the CPSC into these injuries concluded that several factors are at fault in these injuries:
Consumer behavior or, put another way, What is the Fault of the Patron?;
Operator behavior;
Mechanical failure, and
Design defects or limitations.
Houston Dangerous Amusement Ride Attorneys & Texas Product Liability Law
Liability for amusement park accidents and theme park injuries involve three types of law:
Texas Negligence or tort law;
The U.S. Consumer Product Safety Commission provides a search feature that allows you to check a maximum of one year. The Code for Amusement Park Injuries is #1293. There were over 13,000 injuries and deaths reported in 2010. Imagine how many more went unreported?
What Amusement Parks or Theme Parks are Near Houston, Texas?
Well, we all know about the famous Six Flags of Houston at Astroworld Site is a year round favorite for all people throughout the state of Texas. Downtown Aquarium is a public aquarium located on a 6-acre site in downtown Houston. This complex is a multi-functional destination boasting a Ferris wheel which venture's 100 feet in the air and gives spectacular views of the downtown Houston skyline, Lighthouse Dive is another call for all thrill seekers! Dare to drop an exhilarating 65 feet while watching the downtown skyline!
Houston Dangerous Ride Injury Lawyers Serve:
Central Texas, throughout Southeastern Texas, including Aldine, Baytown, Bellaire, Beaumont, Channelview, Cloverleaf, Conroe, Deer Park, Friendswood, Galena Park, Galveston, Hedwig Village, Highlands, Hilshire Village, Humble, Jacinto City, Katy, League City, Magnolia, Mission Bend, Missouri City, Pasadena, Pearland, Porter, Sealy, South Houston, Spring Valley, Stafford, The Meadows, The Woodlands, Waller, West University, and other communities in Fort Bend County, Harris County, and Montgomery County.
Contact one of the experienced Houston Water Park Injury Attorneys listed on this site today for a
FREE INITIAL CONSULTATION regarding your legal rights.